Yesterday I went into the bathroom (I do this every day, but I don't talk about it every day. Only when something interesting happens.) and I didn't see Bertrand.  I'd show you a picture of the empty counter, but I didn't take one.  
Feel free to imagine that here.
The first thing I felt was panic.  Fear that Bertrand was gone.  Then I looked at the hand drier.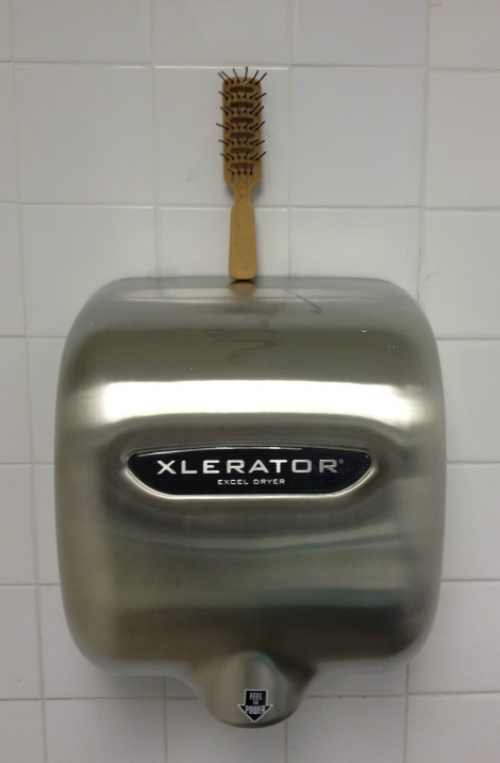 It'd be almost intimidating, if it wasn't a brush on a hand drier.  Granted, the power of the Xlerator shouldn't be understated, but it's not going to do any real damage to you. 
"Look at 'im!  Terrified that I'd gone out the window, were ya?"
"How'd you get up there?"
"Look at you!  'Up there' is actually appropriate this time!  This is considerably higher than the other day when you were all knackered about me moving an inch."
"Well how did you get there? You've never explained that."
"I don't have eyes and I can't feel, so how should I know how I got here?  I'm just here now. It's a good spot I think."
"But when you move, do you move you or does someone else move you?"
"S'pose it could be either of 'em."
"So you can move." 
"Not sure about that.  I definitely wanted to be up here, though.  And now I am."
"Fine."
And I walked out without washing my hands.  Not because I was mad or because I didn't want to use the hand drier because Bertrand was on top of it, but because I didn't use the bathroom.  When you're leaving in a huff to show some sort of general displeasure, you can't really stop and pee.